Castleford (4) 8
try:
Funua, Tate
Hull City (22) 32
try:
Griffin, Swift 3, Brown, Ryan
Target:
Clifford 4
Hull FC were reminiscent of their first trip to Wembley in six years as they comfortably won at Castleford in six attempts and reached the quarter-finals of the Challenge Cup.
Hull were up 22-0 at half an hour and all but stitched the game together.
After Josh Griffin's opening try, winger Adam Swift hit two, Jack Brown scored one and Mae Fornua pulled one back.
But Swift completed his 3-pointer and Jordan Lane crossed in – Will Tate tried to score in the second half.
Jack Clifford kicked four of his six goals as the blacks and whites romped to victory.
Hull has not been to Wembley since back-to-back Challenge Cup final wins over Warrington and Wigan in 2016 and 2017.
But manager Tony Smith is a treble winner himself, having guided Warrington to Challenge Cup finals in 2009, 2010 and 2012.
And Smith's current team seems capable of going the extra mile, revisiting Song after their poor start to the season.
Their fourth straight win booked a quarter-final draw at home to St Helens, directly after the game at Wheldon Road.
After video referee Ben Thaler disallowed an early attempt, it took Hull eight minutes to score when full-back Tex Hoy singled out back striker Griffin to score. leading.
Hull then scored again in the 24th minute when Clifford's provocative kick down the left rebounded nicely, allowing him to regain possession and send Swift out.
Five minutes later, Swift exchanged passes with center Liam Sutcliffe before diving in the left corner to score again. More masterful handling separated Castleford again, setting up Brown for the fourth attempt.
The Tigers finally responded in the 38th minute when former blacks and whites winger Fonua caught a fine pass from Alex Sutcliffe and crossed the bottom right corner.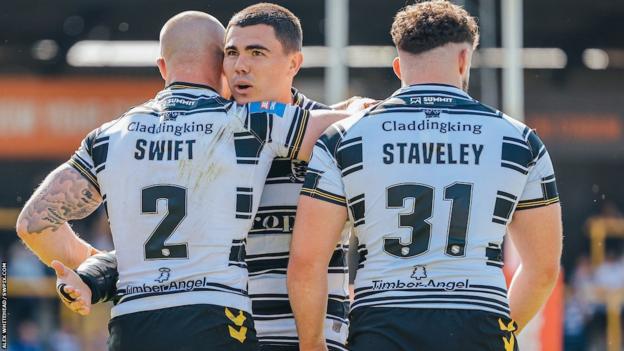 But Ryan was brilliant in a pass from Jack Truman before Swift completed his hat-trick in the 61st minute when Clifford sent him off with a beautiful long pass from the left corner.
Castleford added a second try when Tate pulled off a neat move but Paul McShane again missed the conversion.
Hull finished with 12 men after Griffin was jailed for dissent.
Castleford manager Andy Last:
"In the first half, they exposed some of our line-up options. We managed to take control in the second half, but they scored in the third set.
"Credit to Hull City. They look sharp and it's a tough time for us. We have to pick ourselves up, work hard and stay together.
"Hull City are a good example. We need to do the same with them. It's clear we're not good enough at the moment. We're low on confidence and there are too many players out of form."
Hull coach Tony Smith:
"The players have to work hard and dig deep from the kick-off but we get through it and almost every time we go to the other end we score. Our combination keeps getting better and as long as we do it, it gives gave us a chance to compete.
"I love what two jacks do [Clifford and Trueman]. They complement each other well – and take the pressure off of each other too. Swifty is nice and energetic, but he always has been. He's getting to the point where he can't run anymore, but he's strong and plays defense well.
"At least we have St Helens. It's going to be a little tougher for the Saints but if you want to win the cup then you have to make some upsets. There will be upsets in the cup and the Premier League and I wouldn't say we definitely will. Do it, but we'll give it a try."
Castleford: Broadbent; Funua, Sutcliffe, Turner, Tate; Westman, McShane; Macy, Lawler, Mataki, Martin, Mailer, Hall.
Interchange: Griffin, Mustafa, Robb, Hookham.
Hull: Hey; Swift, Sutcliffe, Tuimawaf, Scott; Truman, Clifford; Fash, Houghton, Satae, Griffin, Lane, Cator.
Interchange: Brown, Dwyer, Gardner, Staveley.
Xin Bin: Griffin (75).
referee: Liam Moore.


Source link
BBC News – Home