Coventry's Championship play-off final against Luton Town is a "romantic match" considering both sides have risen from adversity, City boss Mark Robbins said.
The Celestials take on the Hatters at Wembley on May 27, having played together in League Two most recently in 2017-18.
Robbins has been at Coventry during their league rise, following a similar trajectory to Luton in the process.
"People talk about the journey, where we came from," Robbins told BBC CWR.
"It was romantic. Luton came from the National League. I remember it well; Mick Harford was in charge, 30 points deducted, it was a tough path for them but it was a tough path for us , we have had our own tragic stories over the years.
"Hopefully we can fit into a game and do a good job of getting back into the Premier League. We're one game away and they're one game away. It's fantastic to be involved in this game."
coventry narrow win over Middlesbrough A 1-0 aggregate win at the Riverside Stadium booked their place at Wembley.
Robins proud to 'reconnect' with fans at club
Robbins returned to Coventry City in March 2017 after a stint at Huddersfield Town at a very different club from the one he is now in charge of.
The promotion revived the Sky Blues on the field, and he steered them through the choppy waters of off-home issues and Doug King's long-term takeover. January experience.
"It's a special club, it's special because it's been through so much," Robbins said.
"We're playing against Luton, they've been through a lot themselves, but it's a special club with special fans and the fact that they've supported us so much is a testament to what we've done.
"They've been really good, they've supported the players and I think the biggest thing we've achieved is reconnecting with the fans – because there's a huge disconnect with the club.
"It's amazing that they're back together. It's changed dramatically since I walked in the door in 2017 and hopefully we can take the next step."
Former Sky Blues winger Gary McSheffry agrees – the team has become a focal point for more than just the fan base.
"They are the heartbeat of a city and they hold Coventry together," McShaffy told BBC CWR.
"Mark Robbins really built a siege mentality in this group of players. They had everything that was going against them and they used it as an armory that was going to work in their favor."
Robbins respects resurrected stalwart Kelly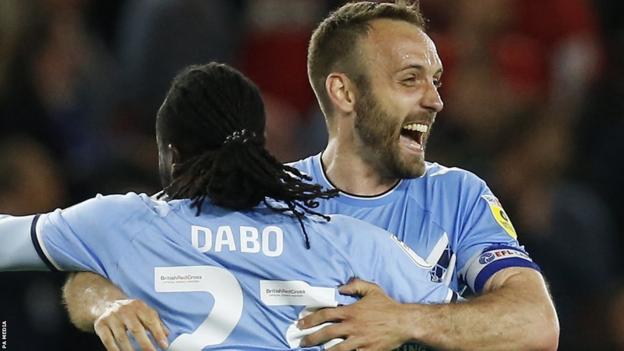 Along with Robbins and assistant Adive Ash, midfielder Liam Kelly is a survivor of Coventry's last play-off success – the 2018 League Two final against Exeter.
Kelly, 33, played just 10 regular-season league games but returned to the first team at a crucial stage of the season.
Robbins said: "Liam really had a really tough time, he got hurt and fought back."
"I've kind of overlooked him for a while this season because we've had other guys come out and Josh Eccles is starting to come through, but to be fair he's a top pro and he understands it all, he understands it all. .
"He's injured, you can see that. I spoke to him before the game against Blackburn to see how he was mentally and he gave me the answers I expected. He said he was just processing things, he had Ready.
"I told him things could turn around quickly and it did. He was ready to step in. He should and is a role model for everybody because of the way he operates. Any young player can do worse than look at him"


Source link
BBC News – Home