Location:
Twickenham
Date:
Saturday, 27 May
Start:
15:00 BST
Access:
Broadcast on BBC Radio 5 Live, BBC Radio Manchester and BBC Radio London (via FM, digital radio, BBC Sounds and online), with live commentary and updates on the BBC Sport website.
Alex Sanderson has instilled a culture at Sale Sharks that players "want to run up brick walls at him", says Premier League winner Andy Titterrell.
The former club captain played for Sale from 1998-2004, making 90 appearances, and was recognized for his leadership as a player.
And Titterrell, Sanderson's teammate at Sale and part of the team that beat Leicester Tigers to win the title 17 years ago, believes those qualities now carry over to Sale who took them within a game of their second title.
"I had the pleasure of playing under Alex, he was my first manager at Sale. One thing Alex had was that he was very competitive," Titterrell told BBC Sport.
"He would have been a brick wall player and I think what he's been able to do and his coaching is to have a group of players who want to run after him.
"That is very important because he is a boy from the north who knows this team and loves it. It is competitive and successful. It takes a lot to start training the players."
Sanderson is familiar with Saturday's opponents at Twickenham, Saracens, having won five Premier League titles with the club during 13 years as assistant manager to director of rugby Mark McCall.
The 43-year-old joined the London club in 2004 as a player after leaving Sale but made five appearances and was forced to retire early due to a back injury.
"He was at Saracens for a long time coaching so he understood how McCall worked and how other coaches there worked and how they played the game," Titterrell added.
"For him to leave this and take on the position of director of rugby at the club that is his club where he grew up, maybe it will add something to him this weekend.
"I think it's going to be a lot more difficult on the field and the connection-wise that they try and get involved in the game and what they're going after and where they're going after that.
"He's got the ability to manage players and he's a really likable guy. When you have a guy like that and the right leadership team around you – what he does – it all comes together."
Promoted since 2006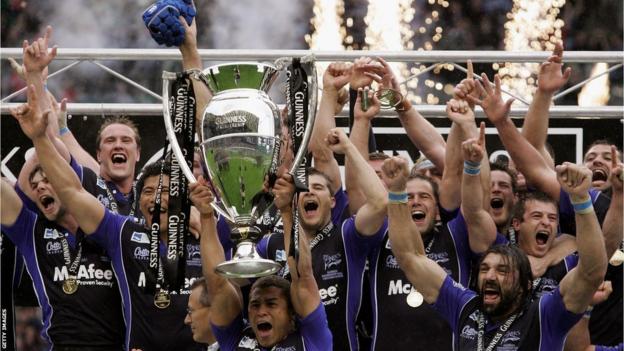 Rugby union in the north of England has been hungry for success since Jason Robinson lifted the Premier League trophy with a brace against Leicester.
The winner of the 2003 World Cup was one of the managers of the rugby team Philippe Saint-Andre which included other French players Sebastien Bruno and Sebastien Chabal.
Hooker Titterrell played every sell-out game in the league that year and was linked up front with prop Stuart Turner, both players starting the Twickenham showdown.
"I'm not sure we were favorites at the beginning of the year," Turner recalled.
"A year before it happened won the European Challenge Cup and we played well that year. So we strengthened it again."
The former England international said early wins against Munster and Castre in the Heineken Cup gave Sale the energy and confidence to take on the best sides in Europe and at home.
"We played really well and got to the top of the table and stayed there all season," added Turner.
The Merchants scored 74 points, winning 16 of 22 games in the regular season before beating Wasps 22-12 in a tight semi-final at Edgeley Park to set up a meeting with six-time Premiership champions Leicester.
"We had a really good display against Leicester's big pack," Turner said. "The good start helped set the tone.
"I remember the weather was bad because the weather was good all week, and the final day of the cup was going down, which we didn't think would suit us with Charlie Hodgson and Mark Cueto.
"We thought we were a bigger side than Leicester, so the bad weather would have gone in their favour."
Fly-half Hodgson scored 23 points in a man-of-the-match performance as Sale won 45-20. Titterrell recalled that Hodgson was "very relaxed" and could "hit anything".
"He was reliable and when you have players like that in your side it feels good when you have a good leader for 10 years," Titterrell said.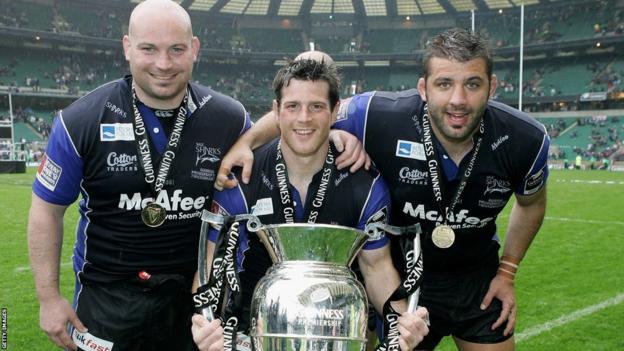 One of the biggest psychological breakthroughs that day, however, took place off the field in the pre-game preparations.
"Kingsley Jones [Sale head coach at the time] he said to us most of the Leicester boys already have Premiership and European medals and we don't have any," Titterrell said. medals.
"The whole team wanted to do it the way we did and we didn't play under any pressure. The playing team dominated a very competitive Leicester team."
Saturday's game marks the most famous day in the history of sales, with Sarries – the Premier League's biggest club of the last decade – this time coming up against the mighty northerners.
"It's fantastic and it was 17 years ago since I was at Twickenham," Titterrell added. "It's a different era, age and style of rugby. A lot has changed but the team doesn't change in terms of what it stands for and where it is."