In a career filled with records, milestones and accomplishments, James Anderson has reached another milestone.
Monday happened to be the 20th anniversary of England's most prolific fast bowler making his Test debut.
When he recovers from a groin injury long enough to earn his next and 180th international cap, Anderson will become the first player to extend his Test career to a third ten since Brian Close in 1976. England player of the year.
Anderson's journey from God's Bow, which began against Zimbabwe in May 2003, has seen him touch heights unattainable by any other speed bowler in the history of the game – 685 wickets and counting.
He is third in Test wicket history and could be second by the end of the summer, and knowing his unlikely pass will end his career.
Making his debut alongside Yorkshire all-rounder Anthony McGrath, who retired a decade ago, Anderson, 20, has been a regular in Burnley Cricket's first XI for less than a year.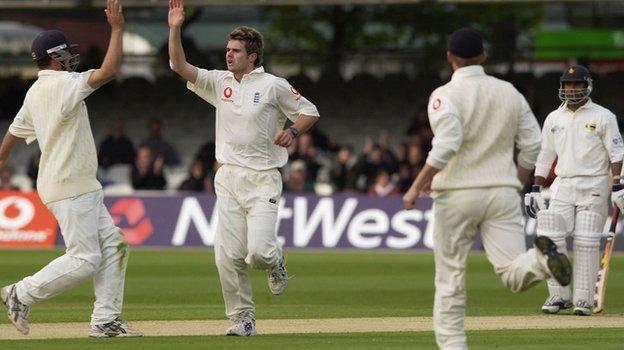 It was in Burnley, at his former St Mary's Primary School, where Anderson reflected on his early years and rise to international cricket.
"My dad was the second-team captain for Burnley. He was good, all-rounder," Anderson, 40, told BBC Sport.
"I'd watch the Ashes of Botham on video, and then while dad was playing, I'd go to the pitch and have tea and try to hit some balls from mum.
"I'm always trying to impress or emulate someone. If it's football, it might be a Burnley player, or I'm a bit of an Arsenal fan, so it might be Ian Wright."
"In cricket, I've been trying to bowl against garage doors like Darren Gough."
Burnley Cricket Club sits in the shadow of Turf Moor Football Club's home ground and is one of the most successful teams in the infamous Lancashire League.
Young Anderson would come back year after year, a little higher and a little faster each time. At the beginning of the 1998 season, at the age of 15, he made his first-team debut.
"It was a very tough cricket match," Anderson said. "In my first game, I hit five wide balls in my first game and I thought 'this is never going to end'. I quickly learned that at 15, nerves are good. They get the best out of me. It keeps me going. Good job.
The Lancashire League is known for its overseas professionals – Accrington's Sean Vaughn, Rishton's Jason Gillespie and Ramsborton's Michael Clarke to name a few – and Anderson The big-name scalp has attracted people's attention.
In that debut season, Anderson had all-rounder Roger Harper, who played for the great West Indies teams of the 1980s and early 1990s, behind the Golden Ducks.
The following season, South African batsman Martin van Jasveld was just three years away from playing Test cricket, but he still grabbed his first ball at 17-year-old Anderson.
"That's when I first started thinking I could play at that level," Anderson said. "When I let good players go, it makes me feel like I'm up to the job.
"I bounced Van Jasveld and he was caught in the middle. I never thought about bouncing someone else's ball first but the captain said 'he wouldn't have expected that' – you were there from start to finish Lesson learned."
It was Val Brown, the mother of Burnley team-mate Michael, who recommended Anderson to Lancashire Academy coach John Stamworth.
"Val Brown used to stay behind the scenes a lot, so she was very influential in bringing Jimmy to my attention," Stanworth told the BBC in 2015.
Anderson's list debuted against a Suffolk side in 1999 and included Derek Randle, a batsman who played for England in the 1970s but played in the Lancashire cricket second team. It took him three years to make a real impression – 8-54 against Northant in the second-tier in May 2002.
A week later he made his County Championship debut and by the end of the year he was named to the England one-day squad.
"I remember that year well," said Anderson, who started 10 Lancashire league games for Burnley in the summer.
"Neil Fairbrasser was playing for the Lancashire second team when I took eight wickets and suggested I go into the first team.
"I was sent to England's academy in Australia and I was in the right place at the right time when all the fast bowlers were injured."
While Anderson bowled 1-27 for Burnley at Haslingdon in June, in December he was bowling opener in a one-day international against Australia at the Melbourne Cricket Ground.
What he did was enough to earn a place in the 2003 World Cup, where he was known for beating Pakistan's top finish in Cape Town, and was a favorite to make his Test debut the following summer.
With frosted tips on his hair (not the worst cut of his career), Anderson caught the ball late on the second day and lobbed for his first Test wicket, making it 5-73 Give England the win in one inning.
"I can't believe I'm still doing what I'm doing. I'm lucky to have the career I've had. I'm lucky I haven't been hit too much by injuries," said Anderson.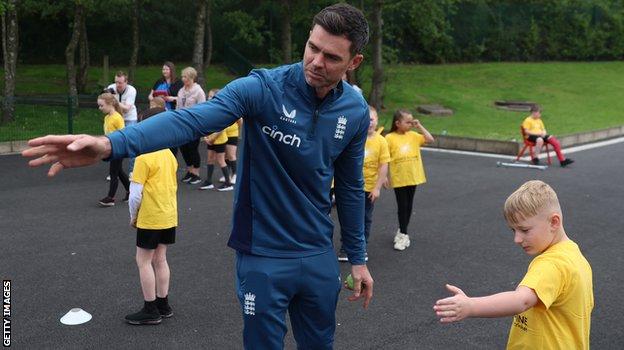 The chance to reflect at St. Mary's was part of a visit to Chance To Shine School, where Anderson led a tutoring session and answered questions from the kids ("Do you like karaoke? No. What would you do if you won the lottery?" Buy Burnley FC. What's the stupidest thing you've ever done? Put a red stripe in my hair).
In partnership with Chance to Shine and Lord's Taverners, the England and Wales Cricket Board has invested more than £4 million this year, bringing cricket to around 7,500 primary schools and 700,000 children.
For the first time, a targeted program will reach 55,000 children in underserved communities, as well as children attending schools for special educational needs and disabilities.
It's a relevant topic for Anderson, who, as a state-educated player surrounded by players with private school backgrounds, is usually a minority in England's squad.
"We play maybe two or three cricket matches a year at school," he said. "I was really lucky that my dad played club cricket.
"It's important to get as many kids as possible into the game. We shouldn't be relying on just one route to play international cricket. We need multiple routes to get there."
As for Burnley, Anderson played his last game for the club in 2006 as a batsman while recovering from a back injury. His home also displays the league championship medals from that season.
The club has a James Anderson suite, but he can't get a free drink in it himself.
"No," he said. "At Burnley, you don't get anything for free."


Source link
BBC News – Home