Unstoppable Manchester City?
Striker Jack Grealish certainly thinks they are, especially at home, and it's hard to argue with that after they swept Real Madrid so forcefully at the Etihad Stadium on Wednesday to seal their place in the Champions League final.
Pep Guardiola's side showed an incredible performance 4-0 win over defending European champions And with a total score of 5-1, the meeting with Italy's Inter Milan in Istanbul on June 10 was achieved.
That extended their unbeaten run at home in Europe to 26 games – going back to September 2018 – and Grealish told BT Sport: "I don't think a lot of teams would do that to Real Madrid, but when we're together, especially playing here [at Etihad Stadium]we feel overwhelmed.
"I don't know what it is, whether it's our fans or the stadium, we just feel unstoppable, even in the league we feel like no one can beat us. It's unbelievable."
Pain from last year's semi-final loss released – Guardiola
Last year, it was the Real Madrid players who celebrated at the expense of Manchester City in the semi-final, reversing a 4-3 first-leg loss to win the second leg 3-1 in Madrid.
Manchester City boss Pep Guardiola said his players had endured defeat until the "pain" was finally lifted on Wednesday night.
"I have a feeling like our stomachs were a year ago – what happened last season [losing to Real Madrid],' said the Spaniard after City reached their second Champions League final.
"I think today everything was lost what we had, last season was so painful.
"But over the course of a year, we've shown how special these players are."
"Pep texted me saying we're going to beat 'em"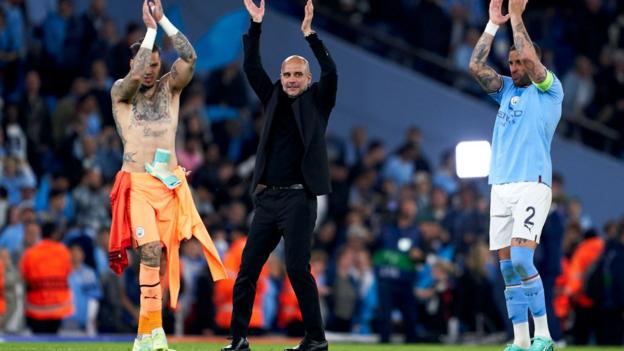 City were completely dominant in the first minute against Real Madrid, with only two superb saves from Thibaut Courtois preventing Erling Haaland from Bernardo Silva in the 23rd minute. The ball prevented them from taking the lead.
From then on, how much City could win was questionable, with Silva making it 2-0 in the 37th minute, followed by second-half goals from Manuel Akanji and Julian Alvarez. The ball helped the team achieve an overwhelming victory.
Guardiola said he felt nothing but calm from his players ahead of the game, with former Manchester United captain and BT Sport pundit Rio Ferdinand revealing the City boss expressed confidence his side would win in the hours leading up to kick-off .
"Pep texted me and said 'trust me, we beat them two years ago and we'll beat them again', that was two or three hours before the game, and that was pure confidence," Ferdinand said.
"It's like they're stepping on their throats, positioning where they want to be, and bam, goal."
He added: "That man was an absolute genius. They destroyed, battered, smashed a giant of European football and did it with ease, jogging away, laden, without even breaking a sweat."
Former Blackburn and Chelsea striker Chris Sutton has no doubts that if Manchester City can repeat the performance against Inter Milan then they will be crowned Champions League winners.
"They showed real poise, authority and control," he said live on BBC Radio 5.
"The Champions League is what Guardiola and City want. If they play like this in the final, you can only see one winner. Another step needs to be taken."
Is the treble on?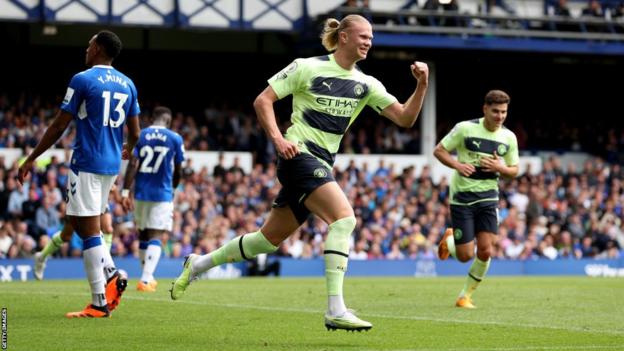 City could claim two trophies ahead of next month's Champions League final on Saturday 10 June.
Victory against Chelsea on Sunday will seal the Premier League title, while they also face Manchester United in the FA Cup final.
The Red Devils are the only Premier League side to have won the treble but Manchester City have become only the second side to achieve the feat.
Former Liverpool striker Michael Owen told BT Sport: "Everyone is playing at a top level and they have a talented manager. I don't see anything other than them winning all three trophies."
The former Newcastle and Manchester City goalkeeper Given added: "The Treble is getting closer. For me, that's the biggest hurdle to overcome."
When does the Champions League final start?
Manchester City take on Inter Milan in Istanbul on June 10 at 20:00 BST.






Source link
BBC News – Home