Manchester United boss Mark Skinner will "bite off your hand" if someone tells him his side still have a chance of winning the Women's Super League on the final day of the season.
United had watched painfully last season as Chelsea lifted their third successive league title at Kingsmeadow on the final day of the season, having just squandered two leads in a 4-2 loss.
Granted, United's hopes of winning a maiden title rest on beating Liverpool and relegation-threatened Reading can surprise Chelsea to claim their fourth successive title.
But in their first season since joining the league for the 2019-20 campaign, United are sure to finish in the top three and qualify for next season's Champions League.
Skinner said his side has big things going on, and he thinks they are "the best team in the league."
"We painted Manchester red for the first time"
City's pursuit of the title almost ended in defeat to Liverpool earlier this month and Sunday's loss means they will fall out of the top three for the first time since 2014; their first season in the women's top flight.
But United's win over their city rivals marks a change in the top-flight, meaning the future league champions are likely to be one of a top four, rather than the long-standing trio of Chelsea, Arsenal and Manchester City. .
Until now, United had never beaten City in the league – three losses and three draws.
"This is the first time we've painted Manchester red," Skinner said. "To beat City in front of all these fans, it's more about timing and building an experience."
Even before kick-off, the atmosphere at Leigh Sports Village already felt like a party – fans arrived early to bask in the sun, with flags in their seats ready to wave in one of the stands, chants of "Reds" 'It started with the players warming up.
The fans know that no matter what happens against City, they will be excited for their team and enjoy the prospect of a title race.
As they have done against Aston Villa and Arsenal this season, United were slow to score, finally keeping their title hopes alive and delighting Leigh Sports Village.
Skinner said it was that never-say-die attitude that set his team apart this time around, finishing fourth in the past three seasons.
"We still lost games and it's not in our hands to win the title, but it shows confidence in the team," he said.
"It shows that if you put your head down and work hard, you can achieve things and we've made history for this club."
"We won't stop here"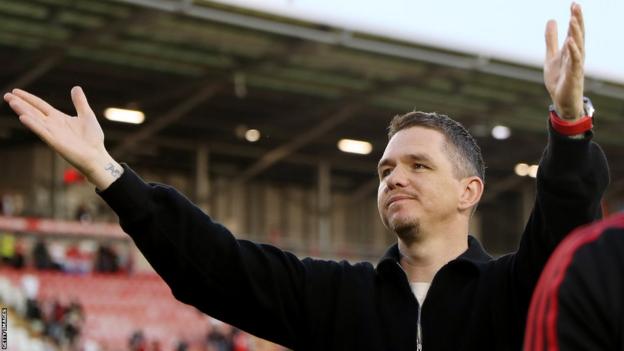 Skinner admitted his side needed a "miracle" to win the title on Saturday and said he owed Reading boss Kelly Chambers a drink if the unexpected happened.
"If a miracle happens, then I promise you, I'm going to have a drink and celebrate," he said.
"I'm not expecting, but I'm hoping. I think we should be a little bit hopeful about what we can achieve this year.
"To have the chance to win the title in the last game of the season and reach the cup final, if you asked me at the start of the season, I would bite your hand off."
United also managed to finish at least second in the WSL, meaning they won't have to go through the same grueling Champions League qualification process that City have endured over the past two seasons.
Regardless of the league result, Skinner has reiterated many times this season that this is just the beginning for United and they have bigger ambitions for the future.
"We have made a huge contribution to the development of women's football at Manchester United," he said.
"If we can keep producing and give them [the fans] European nights, we have a long way to go and we will be the real front line of the women's game for many years to come.
"We've achieved some amazing things, but we're not going to stop there. At the end of the season, I promise you, I'll be celebrating with a smile on my face."
Can Skinner capture the "key element"?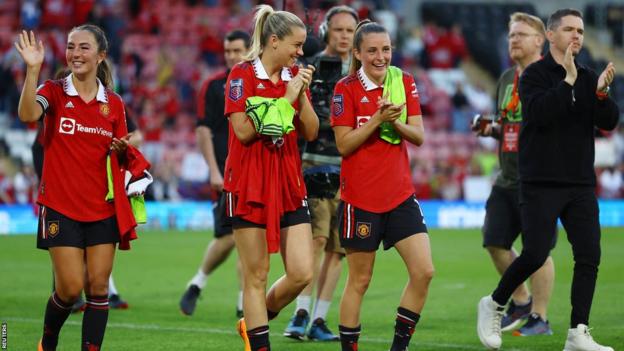 If United hope to continue to dominate the headlines next season, they will undoubtedly look to strengthen their squad, especially with the pressure of the Champions League increasing.
Skinner said the arrival of more players this summer was inevitable.
"The team is going to look different next year, that has to be. I don't think it needs a massive overhaul, it has a lot of key components that we need," he said.
"But if you're interested in this huge project at Manchester United, we've got it for you. If I were a top player, I'm thinking about Manchester United and think I can make a real difference there."
In addition to signing new faces, his mandate will also include trying to retain some existing ones.
Arsenal set a world record for striker Alessia Russo in January, out of contract this summer, and the 24-year-old will undoubtedly have other top European clubs queuing up.
It's clear where United fans stand on the matter.
When the stadium announcer called out Russo's name, it was one of the loudest cheers as supporters moved in their seats every time she touched the ball, waiting for something special to happen.
Russo did not suggest it would be her last game against City in front of a full-time home crowd, but Skinner said they were "still negotiating" to keep the England striker.
"It's always possible [she will leave] But the reality is they are still negotiating and talking. "
Another player out of contract this summer is Spanish defender Ona Butler, who has been outstanding this season with nine assists.
"One player doesn't make a team, but we want them to stay."


Source link
BBC News – Home