Mexico's Mauricio Lara will be stripped of his WBA featherweight belt after an unsuccessful title fight against Leigh Wood.
Wood reached the nine-stone limit but his side are doubtful for Saturday's match in Manchester.
Promoter Eddie Hearn suggested the game would go ahead, but Wood's coach Ben Davidson said: "This is a discussion I have to have with Leigh.
"I can't sit here and say we've 100 percent ruled out that there won't be a fight."
Following a weight check on Wednesday, the British Boxing Board of Control (BBBofC) expressed concern about the champion's weight and did not want Lara to drop below 9st 2.5lbs. He weighed 9th at 3.8 pounds on Friday.
WBA likely to strip Laura of title, but Wood still eligible for gold belt He lost to Laura in February.
The Englishman was stopped in the seventh round of their first match.
Meanwhile, Terri Harper's hastily rescheduled world title defense is on track after England's WBA light welterweight champion added weight to her fight with Croatia's Ivana Habazin.
Harper fights on the undercard in Manchester, with Jake Cattrall's light welterweight fight against Darragh Foley as the main backing.
Wood isn't the only Briton in the world title race this weekend, with Lawrence Okoli and Chris Billam-Smith also fighting at Bournemouth.
Bournemouth native Billam-Smith challenged Londoner Okolie for the WBO heavyweight title at the Vitality Stadium, and there was no such heavyweight fight on the sun-soaked Bournemouth Docks.
The former sparring partners weighed the same at 14 lbs. 3 lbs.
In Belfast, Northern Ireland's Michael Conlan will battle IBF featherweight champion Luis Alberto Lopez for the world title on Friday night.
Stables setup ahead of Bournemouth round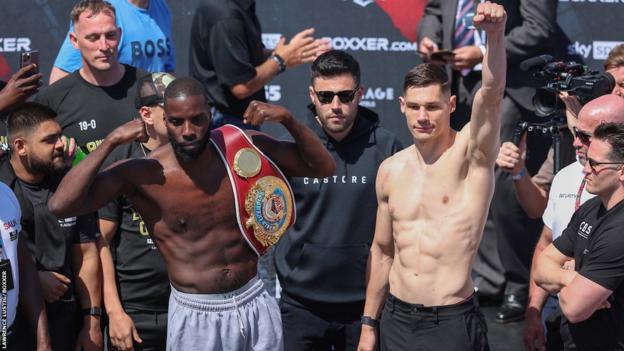 Setting up a stage in front of the merry-go-round and messy slide, with both Rahm-Smith and Okoli adding weight with ease, was a gracious affair at Bournemouth.
Billam-Smith was trained by Shane McGuigan, who also coached Okolie before parting ways earlier this year.
The pier was packed, with fans of home boxer Billam Smith mingling with those who stumbled upon the weigh-in while spending the day at the beach.
Face to face without shaking hands. Okolie stared blankly into the challenger's eyes as Billam-Smith smiled back.
Billam Smith beat Isaac Chamberlain in front of 4,000 fans at the Bournemouth International Center last year. He says facing a crowd of 15,000 at his beloved AFC Bournemouth will be the "highest point" of his career.
"It's been such a great build-up of events and participation," he added. "The tickets are crazy and the whole town is behind me. It's been amazing."
Okolie is competing for the second time in two months. He beat New Zealander David Wright on points in March and believes back-to-back training camps will work in his favour.
"I'm in good form and I need to be in good form because it's going to be an uphill battle until I get it under control," he said.


Source link
BBC News – Home