Saracens (21) 38
try:
Maitland 2, Van Zier, Mullins, penalty
shortcoming:
farrell 4
Pen:
farrell
Northampton (3) 15
try:
Mitchell, Ram
shortcoming:
smith
Pen:
smith
The Saracens, who reached their seventh Premier League final in 10 years, survived a second-half comeback to complete a five-match play-off semi-final against Northampton Saints.
Sarri cruised to 21-3 at the break after two conversion attempts from Scotland winger Sean Maitland and South Africa scrum half Ivan Van Ziel.
Alex Mitchell and James Ramm both scored later to give the Saints some hope.
But a penalty attempt and a late goal from Mullins helped Sarris do the job in a game that saw England lock Marroi Toye and Saints substitute scrum-half Tom James after a late yellow card. A 14-man match ends.
The Saracens will now be chasing a sixth title – and their first in four years Relegation to the Championship – when they face the winner of Sunday's second semi-final between Leicester Tigers and Sale Sharks.
The final is at Twickenham on Saturday 27 May – when they may have the chance to avenge a last-minute loss to Freddie Burns a year ago.
StoneX's Saints off to a bad start
It was Northampton's 11th semi-final and their second in a row. But their coach, Phil Dowson, is still on the field and their last real final was in 2014, when they beat the Sarries.
And, even though they beat Sarri 38-29 last month and are the highest attempted scorers this season, They haven't won at StoneX Stadium since 2016.
They needed a good start to get any real chances — and they didn't get that.
With just 25 seconds into the game, Maitland could be jailed for elbowing George Firbank in an mid-air collision, leaving England in need of lengthy treatment.
But referee Carl Dixon only awarded a penalty, refusing to consult TMO, and in the sixth minute, Maitland still scored for the Saracens' opener in the park.
Maitland, in black tights, scored again in the 23rd minute when he caught a clever Farrell grubber in the left corner.
Sarri made his third attempt on the half-hour mark when a quick-thinking Van Zell made it easy from the spot-kick.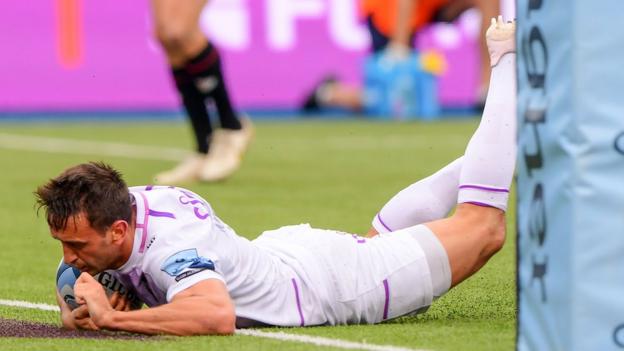 Northampton were better in the second half
Northampton reemerged after the break to show more firepower – and were rewarded in the 56th minute when scrum-half Mitchell scored on his first try.
The Saints then briefly threatened to stage a proper comeback when England striker Courtney Laws assisted winger Lahm to score.
But their revival was snuffed out in the 70th minute by referee Dixon, when the Saracens' mallet forced a penalty, which also resulted in James being sent into the box.
Mullins then made it safe before Sarris was also reduced to 14 men when England and Lions lock Itoje were booked with two minutes remaining.
Saracens Rugby Director Mark McCall:
"Sean Maitland probably didn't need to do what he did, which was to withdraw, because he was going to fight for the ball. It was a good decision.
"It was the strongest defensive performance we've had in years. It's been in the DNA of the club and it's as good as we've been in a while.
"It sets the stage for the win. We're fit and in control of a really good attacking team. The players feel like everything is under control. You don't go your way to the semi-finals all the time.
"But I'm very happy with the way we've dealt with it. We've been emotionally consistent and strong. We've moved on to what's next, done our job and got back to basics. Those things happened in the final and semi-final and we dealt with that. It's really good."
Northampton boss Phil Dawson:
"The referee didn't give it a shot. I think the TMO looked at it and decided it was a rugby game, so it went on.
"We're going to have to look again. I don't know where Maitland is looking. I don't know where he is with the ball in the air. It doesn't matter if I agree or not.
"You need luck here. A couple of things didn't go our way but I'm sure Sarri would say the same. That was one of the decisions that didn't go our way, right or wrong.
"Everyone will have an opinion on that. But still 15 games and we tried three times in the first half. In the semis against the best team in the league, you're going to struggle no matter what decision is made by the referees make."
Saracens: Goode, Mullins, Lozowski, Tompkins, Maitland, Farrell (cap), Fanzier; M Vunipola, George, Riccioni, Itoje, Tizard, Isikwe, Earl, Wray.
replace: Dan, Mavi, Judge, Hunter-Hill, Knight, De Haas, Taylor, Daly.
Xin Bin: Ito Jie (78).
Northampton: Verbank, Lahm, Dingwall, Hutchinson, Freeman, F. Smith, Mitchell; A Waller, Cruse, Davison, Ribbans, Moon, Lawes, Ludlam (Captain), Augustus.
replace: R Smith, E Waller, Hill, Salakaia-Loto, Scott-Young, Graham, James, Collins.
Xin Bin: James (70 years old).
referee: Carl Dixon.






Source link
BBC News – Home