Place
: County Ground, Hove
Day
: Thursday, 18 May
Time
time: 11:00 BST
Explanation
: Reviews and reports on the BBC Sport website & app; updates on BBC 5 Sports Extra, BBC Radio Sussex and BBC Radio Wales
A head-to-head clash between Australian batsmen Steve Smith and Marnus Labuschagne is set for the second round of the County Championship when Sussex host Glamorgan.
It is Smith's third and final game with Sussex, and possibly the last Glamorgan will see Labuschagne this summer.
The pair will face India in the final of the World Test Championship before the Ashes.
Labuschagne says Smith has been a "big influence" on his career.
Both sides are unbeaten this season, with one win and four draws, but it's a sprinkling of international stars that should bring huge crowds and media presence to Hove.
The game is not just a two-man affair, with India's Cheteshwar Pujarachurning running for Sussex, while England's Ollie Robinson could feature.
Meanwhile, Glamorgan's other Australian international, fast bowler Michael Neser, is hoping to break into the visiting team after being overlooked for the first time, and looks set to attend national training camps.
Smith vs. Labuschagne will pay higher.
Raising expectations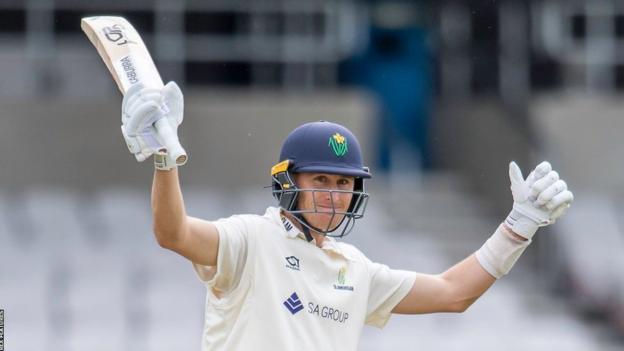 Smith was initially a top dog, with Labuschagne a young persuasive when he came to Glamorgan in 2019.
But Smith's leg injury allowed Labuschagne to take his best form on the biggest stage and become the world's top Test batsman, playing alongside Smith, who is now third.
So what has Labuschagne learned from Smith along the way?
"He's really inspired me, he's just raised my expectations, I think he's raised everyone's expectations," Labuschagne told BBC Radio Wales.
"The person he is, the way he plays the game, I've learned a lot from him and the way he thinks about the game.
"Our friendship has grown over four years and I have learned a lot every year."
"We played against each other in the Big Bash and the state stuff, but I haven't played with him for a long time. It will be interesting to see him and his performance when I'm not in the game. Striker's end.
"They have a few goals down so I believe they deserve it [a big one]but we believe we can put the ball in the right place."
Although this year's stay in Glamorgan is likely to be curtailed by the Test series taking place earlier than the summer, Labuschagne sees his trip to these shores as different from his peers.
"I've played here since 2019 and I've been back every year it's been possible. Steve and a few other guys come here – I'm preparing the Ashes summer well for them," he said.
"But for me personally, I love playing here and I love Glamorgan, the club has been very good to me and I enjoy playing here."
So how does Smith see the province stacking up against its Australian counterpart?
"I'll be up against my mate Marnus running (170 not out against Yorkshire), so it's going to be tough," Smith told BBC Sussex Sport.
"He's a student of the game, he works hard and he's always looking to improve if he's a good player, but I hope he doesn't score too much this week.
"Neser controls the ball for the Dukes, he played well last week with a hat-trick and 7-32 (also at Headingley) and he has incredible skill.
"I don't think he's in [initial Australia] group at the moment, but playing here always helps. "
Neser, who has two Test caps, strengthened his case for international exclusion with a seven-wicket haul in Yorkshire and an early burst against Worcestershire, adding to scores of 90 and 86 at the bottom.
He is also relishing the prospect of bowling against Smith.
"There are a lot of stars in this line-up, as a team we are playing well and we will be fighting, but it will be good to see the tension," Neser told BBC Sport Wales.
"Steve is not far from running, so even though he missed a few games, he is very good and we have to be on our game."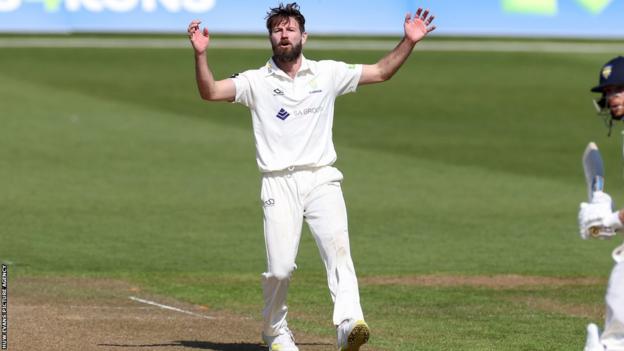 The 'genius' of regional cricket
Glamorgan coach Matthew Maynard wants to point out that apart from Smith and Labuschagne, there are 20 other players who will take part in the match and that India's Pujara should also be important.
But he's receiving extra attention for what could be the county's biggest success.
"Great for the district game, we're expecting a great crowd there," Maynard said.
"It's also great in a regional game where you have the best Test batsman in the world and one (Smith) who has done so well and is still an amazing player.
"They are with Pujara and Michael Neser, combining their young talent coming up against our seniors. [squad], despite being one of the two never to have played senior cricket. It is a very exciting prospect. "
Marnus Labuschagne talks to BBC Radio Wales' new sports and music program with Rob Phillips and Molly Stephens, which will run from 14:00-17:00 BST on Saturdays for the coming months.